Date
13 Oct 2018
Time
7:30 pm
Cost
Adults $20 | Child (U15) $15 | Family (2+2) $60
Riot City Rumble 2018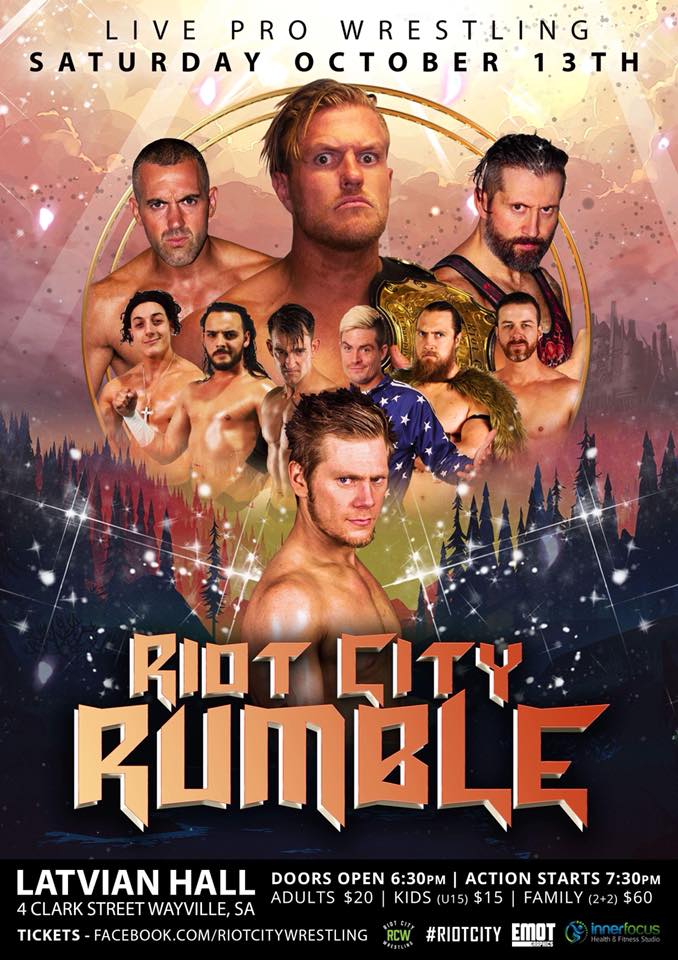 Matches announced:
The Parea Vs The Millennials
Using their contracted re-match, The Millennials go up against The Parea with the titles on the line!
Tyler Daniels Vs Rocky Manero
Rocky Menero and Tyler Daniels to finally lock horns in Riot City!
There is no love lost between these two veterans and on October 13, we see who comes out on top and works their way closer to that coveted title shot!
Gavin Mc Gavin Vs Davey Green
**SA vs WA**
Perth native and current EPW Champion, Gavin Mcgavin, crosses the border into Riot City for the first time ever!
He takes on the ever impressive former RCW Champion, Davey Green, who is looking to claw his way back to another title shot.
One of Perth's best up against one of Adelaide's hottest rising stars!
Cadie  Tré Vs Matty Wahlberg: Riot City Rumble 2018
**SA vs NSW**
The Annual Riot City Rumble marks the RCW debut of one of The East Coast's hottest talents, "The 21st Century Success Story" Matty Wahlberg.
Wahlberg takes on the ever unpredictable Cadie Tre.
Two of Australia's rising stars do battle this Saturday, LIVE, at the Riot City Rumble!
Tickets are selling fast, book now!
The Rudeone Vs Gods & Monsters 
What happens when you put two masked assassins against two 7 foot behemoths?
The Rude Ones are one of Australia's longest serving and most successful tag teams and look to win their way towards another title shot.
Gods and Monsters are hungry for another shot at the gold and will use their size and strength to their advantage. But will that be enough?
Miss Fortune Vs Blair Alexis 
After returning at RCW 200, Blair Alexis and Miss Fortune are now set to go one on one, LIVE at the Riot City Rumble!
A big win here would put them one step closer to getting a shot at the current RCW Women's Champion, Indi Hartwell.
Tickets still available! Book now as last show SOLD OUT!
https://www.outix.co/website/RiotCityWrestling
Gavin McGavin Vs Adam Brooks
***BASSO INJURED***
**BROOKS vs MCGAVIN – EPW CHAMPIONSHIP MATCH**
Chris Basso has been forced to withdraw from this weekend's scheduled matchup against Adam Brooks.
At this stage, it is unknown the extent of the injury but it is understood he will be sidelined for about 4-6 weeks.
RCW Management have been furiously looking for a replacement and have come to terms with current EPW Champion, Gavin Mcgavin, who steps in AND will be putting the EPW Championship on the line!
Mcgavin, originally billed to fight Davey Green, is one of Australia's top grapplers and jumped at the opportunity to go one on one with the Loose Ledge.
Macgavin vs Brooks for the first time ever, LIVE at the Riot City Rumble this Saturday!