RCW Live #41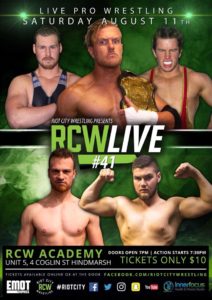 Fans in attendance at RCW LIVE #41, will bear witness to a debut, yet another in ring return and a 10 MAN ELIMINATION MAIN EVENT!
Featuring:
Nick Armstrong vs Jensen Hunt (pro debut)
Fan favourite, SADAKONE, returns to in-ring competition!
Jimmy C has laid down the gauntlet and has brought the whole crew.
**5vs5 Elimination**
The C-Men:
Kurt Baron – Professional Wrestler, Tony Toro, Dean Brady, Tom Byrne& James Kray
Vs
Hammer Time:
Hammer, ???, ???, ??? & ???.
Plus the Women's Title Match for RCW200 will be announced live!
All this and more!
RCW LIVE #41 @ The RCW Academy,
Doors open – 7pm,
Riot starts – 7:30pm.
All tickets $10!