RCW 200!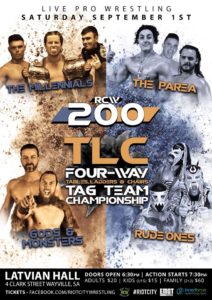 Hammer Vs Kurt Baron
IT ALL COMES DOWN TO THIS…
After a year and a half war with General Manager The C-Man – Jimmy C, The Man Called Hammer puts his Key to the City on the line when he faces Kurt Baron – Professional Wrestler at RCW 200 in hopes to finally rid Riot City Wrestling of its GMC!
Will The C-Man's reign continue? Will The Skyscraper become the new Key to the City holder? With Brad Smyth as the Special Guest Referee and the odds stacked against him like never before, will Hammer find a way to win??
The stage is set for an epic showdown at a landmark RCW event!
SEPTEMBER 1st!
HAMMER VS. BARON!
KEY VS. GMC
ITS WINNER TAKES ALL!!!
'C' YOU AT RCW 200!!!!
Don't waste time and book your tickets NOW for RCW 200 and be apart of Australian Wrestling History, featuring the return of the one and only "Loose Ledge" Adam Brooks! PLUS, a jaw-dropping TLC Match for the RCW Tag Team Championships!!!
Head to https://www.outix.co/tickets/event/rcw-200 for more information!
Chris Basso Vs Nick Armstrong and Zak Sabbath: RCW 200
"World Class" Chris Basso defends his RCW Championship against Nick Armstrong and The Dark Prince – Zak Sabbath in a Triple Threat Match!
Rocky Manero Vs Adam Brooks: RCW 200
It's Ledge vs. Icon as Rocky Menero takes on the returning Adam Brooks!
8 way Tag: RCW 200:
EIGHT MEN…FOUR TEAMS…BUT ONLY ONE TEAM WILL BE Riot City Wrestling TAG TEAM CHAMPIONS!
Can the Millennials find a way to hold on to the gold? Will Gods & Monsters take the throne? Can the Rude Ones gain their titles back and be the only 3 time champs? Or will the Parea be able to muzz their way to victory?
It's TABLES….LADDERS….AND CHAIRS at#RCW200 !!!